Registration Fees
$895 Physicians
$795 Advanced Practice Professionals/Nurses
$545 Residents/Fellows
$1095 Industry Representative
Cancellation Policy
Cancellations received in writing before August 1, 2023 will be refunded, less a $100 administrative fee. No refunds will be made on cancellations received after that date.
Please email your requests to [email protected]
Overview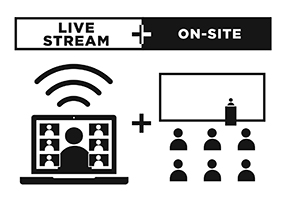 Onsite and Remote Learning Options:
The course will be offered as a live conference. Registrants have the option to attend in person or to tune in remotely via zoom live stream during programming hours (Pacific Time). Login instructions along with the digital syllabus will be shared with attendees before the meeting. Included in your registration fee is access to the course recordings on demand after the conference and for 30 days after the course. You must tune in to the live conference (in person or remotely) to claim CME.
Objectives
Understand and apply appropriate standards of care when treating adult and pediatric patients with rheumatic diseases (including rheumatoid arthritis, systemic lupus erythematosus, other systemic autoimmune diseases, autoinflammatory diseases, seronegative arthritis, osteoarthritis, osteoporosis, crystalline arthritis, and soft tissue pain syndromes;
Make more accurate diagnoses based on the best available recent data and expert guidance;
Monitor the efficacy and safety of rheumatic disease treatments;
Utilize newly approved treatments appropriately based on the latest medical evidence.
Accreditation
The University of California, San Francisco School of Medicine (UCSF) is accredited by the Accreditation Council for Continuing Medical Education to provide continuing medical education for physicians.
ABIM MOC credit
Successful completion of this CME activity, which includes participation in the evaluation component, enables the participant to earn up to [(TBA) CME credits] MOC points in the American Board of Internal Medicine's (ABIM) Maintenance of Certification (MOC) program. It is the CME activity provider's responsibility to submit participant completion information to ACCME for the purpose of granting ABIM MOC credit. The course evaluation must be completed for MOC credit.
Course Outline
View / Download Course Outline
Course Chairs
Mary C. Nakamura, MD
Professor of Medicine
University of California, San Francisco
Lianne Gensler, MD
Professor of Medicine
Director, Spondylarthritis Clinic
University of California, San Francisco
Gabriela Schmajuk, MD, MS
Professor of Medicine
University of California, San Francisco
Faculty
(University of California, San Francisco unless indicated)
Judith Ashouri Sinha, MD
Assistant Professor
Division of Rheumatology & Immunology
Francesco Boin, MD
Director, Division of Rheumatology
Director, Cedars-Sinai Scleroderma Center
Kao Autoimmune Institute
Cedars-Sinai Medical Center
Ramani Chaganti, MD
Associate Professor of Medicine
Maria Dall'Era, MD
Professor of Medicine
Director, UCSF Lupus Clinic
Chief, UCSF Health Division of Rheumatology
Brett Dietz, MD, MS
Assistant Professor of Medicine
Sarah Goglin, MD
Associate Professor of Medicine
Jonathan Graf, MD
Professor of Medicine
Mary Beth Humphrey, MD, PhD
Associate Dean of Research
Professor of Medicine
McEldowney Chair Immunology
Division Chief of Rheumatology, Immunology and Allergy
The University of Oklahoma
Norman, OK
Daniel Kastner, MD, PhD
Scientific Director, Intramural Research Program
National Human Genome Research Institute
National Institutes of Health
Bethesda, MD
Erica Lawson, MD
Associate Professor of Medicine, Pediatrics
Andrew Mammen, MD, PhD
Unit Leader, Muscle Disease Unit
Principal Investigator,
Laboratory of Muscle Stem Cells and Gene Regulation
National Institute of Arthritis and Musculoskeletal
and Skin Diseases
National Institutes of Health
Bethesda, MD
Lester D. Miller, MD
Associate Clinical Professor
Peter Merkel, MD, MPH
Chief, Division of Rheumatology
Professor of Medicine and Epidemiology
University of Pennsylvania
Philadelphia, PA
Ted Milkuls, MD
Professor of Rheumatology
Professor, Division of Rheumatology
Director, Professional Development Core, Great Plains IDeA-CTR
University of Nebraska
Lincoln, NE
Rina Patel, MD
Associate Professor
Director, Musculoskeletal Fellowship Program
Kenneth Scalapino, MD
Rheumatology Specialist
Portland, OR
Carlin Senter, MD
Professor and Director of Primary Care Sports Medicine,
Division of Sports Medicine and Shoulder Surgery
Erin Wilfong MD, PhD
Instructor of Medicine - Rheumatology &
Pulmonary/Critical Care
Vanderbilt University Medical Center
Nashville, TN
Travel & Lodging
Mission Bay Conference Center
1675 Owens Street
San Francisco, CA 94143-3008
MBCC Phone:  415-476-2019
   
---
Exhibitors
Exhibit Fee: $4,000  Pay Fee Via Credit Card
Email Contact for Exhibits  [email protected]
Exhibit Description
Exhibit Hours
(subject to updating)
| | |
| --- | --- |
| Thursday 8/10/23 |   |
| 7:00- 8:00AM | Exhibit Area open during Registration |
| 10:00- 10:30AM | Coffee Break in Exhibit Area |
| 3:00- 3:30PM | Coffee Break in Exhibit Area |
| Friday 8/11/23 |   |
| 7:00- 8:00AM | Exhibit Area open during Registration |
| 10:00- 10:30AM | Coffee Break in Exhibit Area |
| 3:00- 3:30PM | Coffee Break in Exhibit Area |
| Saturday 8/12/23 |   |
| 7:00- 8:00AM | Exhibit Area open during Registration |
| 10:00- 10:30AM | Coffee Break in Exhibit Area |
| 3:00- 3:30PM | Coffee Break in Exhibit Area |