Register for In-Person Attendance    Register for Remote (Virtual) Attendance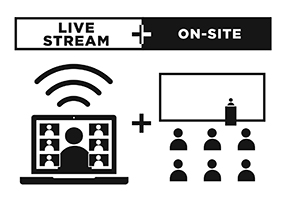 Onsite and Remote Learning Options:
The course will be offered as a live conference. Registrants have the option to attend in person or to tune in remotely via zoom live stream during programming hours (Pacific Time). Login instructions along with the digital syllabus will be shared with attendees before the meeting. Included in your registration fee is access to the course recordings on demand after the conference and for 30 days after the course. You must tune in to the live conference (in person or remotely) to claim CME.
Registration Fees
Early Bird Ends - September 1, 2022
Audiologists $395.00
Advanced Health Professionals $395.00
Residents/Fellows $75.00
Regular Fee Begins - September 2, 2022
Audiologists $425.00
Advanced Health Professionals $425.00
Residents/Fellows $100.00
Cancellations received in writing before October 13, 2022 will be refunded, less a $75 administrative fee. No refunds will be made on cancellations received after that date. Please email your requests to [email protected]
Overview
This course is designed as a state-of-the-art update of contemporary audiological practice, addressing a wide range of topics including the areas of hearing science and diagnostics, pediatric specialty, tinnitus management, balance assessment, and amplification. This program is intended as a course for practicing audiologists, however professionals engaged in hearing aid dispensing, audiology graduate students, physicians, and others involved in the management of adults and children with hearing disorders will also benefit. The format consists of lectures presented by renowned faculty from around the country and updates on new technology presented by manufacturer representatives.
Objectives
After attending this course, attendees will be able to:
Consider how bimodal neuromodulation can fit into a clinical setting for treating tinnitus patients.
Describe what is meant by evidence-based practice and identify the components of audiological evaluation that are supported by evidence.
List examples of physical and acoustic facts that do not require evidence-based evaluation.
Understand the definitions of and differences between resiliency, sustainability, burnout, empathic distress, and moral injury.
Describe three strategies or practices for promoting individual resiliency in clinical work.
Understand how to diagnose vestibular migraine and how to use patient-reported outcome measures to quantify symptoms in vestibular migraine.
Understand the evidence behind different treatment modalities for vestibular migraine.
Describe the different genetic causes of SNHL and how genetic testing for SNHL is conducted and interpreted.
Understand the clinical impact of genetic testing for SNHL.
Define the new 60/60 referral guideline for cochlear implant evaluation referrals (Zwolan et al., 2020) and identify three groups of patients who meet the recently expanded FDA CI candidacy criteria.  
Describe a typical hearing loss profile that meets electro-acoustic (EAS, hybrid) CI candidacy.
List elements of the proposed (or finalized) FDA rule.
Compare and contrast methods of integrating OTC HAs and other direct to consumer amplifiers into an audiology practice.
Describe pathways of care for patients.
Identify how the COVID-19 virus that causes hearing loss/tinnitus and/or balance problems and the degree and types of hearing loss that could occur.
Decide and interpret which audiometric tests (objective and subjective) are appropriate for COVID-19 survivors and what test results are for patients who report 'brain fog.'
Informed of the advantages of an ultrasound hearing aid compared to current hearing aid technologies, along with animal data to support its potential for hearing applications.
Recognize how diabetes affects the auditory system as well as plan a hearing screening and monitoring program for patients with diabetes.
Describe benefits to regular collaborative, interdisciplinary care of D/HH children, including key checkpoints for teams in a child's journey.
Describe the effective communication strategies and tools to help optimize hearing and communication during encounters.
Accreditation
The University of California, San Francisco School of Medicine (UCSF) is accredited by the Accreditation Council for Continuing Medical Education to provide continuing medical education for physicians.
The University of California, San Francisco is a Speech- Language Pathology and Audiology and Hearing Aid Dispensers Board (SLPAHADB) approved provider for continuing professional development courses. This live activity meets the qualifications for 12.0 hours of continuing professional development credit for audiologists as required by SLPAHADB.
(License: PDP 453)
UCSF, OCME is approved by the American Academy of Audiology to offer Academy CEUs for this activity. The program is worth a maximum of 1.2 CEUs. Academy approval of this continuing education activity is based on course content only and does not imply endorsement of course content, specific products, or clinical procedure, or adherence of the event to the Academy's Code of Ethics. Any views that are presented are those of the presenter/CE Provider and not necessarily of the American Academy of Audiology.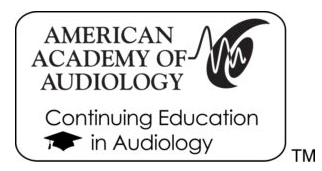 Course Outline
View / Download the 2022 Course Agenda
Friday, October 14, 2022
7:30am
Registration and Breakfast
 
7:55
Welcome
 
8:00
Vendor Presentations
 
8:30
Bimodal Neuromodulation for Tinnitus
Hubert H. Lim, PhD
9:30
An Evidence-based Look at Audiological Treatment and Outcomes
Catherine Palmer, PhD
10:30
Break
 
11:00
Resiliency in the Setting of Serious Illness: Working with Loss and Preventing Burnout
Mike Rabow, MD
Judy Long, Mdiv, BCC
 
 
Judy Long, Mdiv, BCC
12:30pm
Lunch
 
1:45
Vestibular Migraine: Updates, Evidence, and Challenges
Jeff Sharon, MD
2:45
Break
 
3:15
Genetic Evolution Is Here: Genetic Testing and Gene Therapy for Sensorineural Hearing Loss
Dylan Chan, MD, PhD
4:15
Updates to Cochlear Implant Candidacy Guidelines
Melanie Gilbert, AuD
5:15pm
Adjourn
 
5:15pm
Wine Reception
 
Saturday, October 15, 2022
7:30am
Registration and Breakfast
 
7:55
Welcome
 
8:00
Vendor Presentations
 
8:30
What is the Role of Self-Care in the Treatment of Hearing Loss?
Catherine Palmer, PhD
9:30
Is COVID-19 'Brain Fog' Actually an Auditory Processing Disorder?
Robert M. DiSogra, AuD
10:30
Break
 
11:00
Ultrasound Hearing Aid Technology
Hubert H. Lim, PhD
12:00pm
Lunch
 
1:15
Diabetes and Audiological Management
Robert M. DiSogra, AuD
2:15
Virtual Multidisciplinary Clinic Model for all D/HH Children​
Melissa Ho, AuD
 
 
Chiara Scarpelli, SLP Anna Meyer, MD
3:15
Break
 
3:30
Optimizing Hearing and Communication in Healthcare Encounters
Payal Anand, AuD
4:00
Legislative Updates by CAA and SLPAHADB
Marcia Raggio, PhD
 
 
Leigh Kjeldsen, AuD
5:00pm
Adjourn
 
Course Chairs
Payal Anand, AuD
Director of UCSF Audiology Clinic
University of California, San Francisco
Troy Cascia, AuD
Lead Senior Audiologist, UCSF Audiology Clinic
University of California, San Francisco
Faculty
(University of California, San Francisco unless indicated)
Travel & Lodging
Lunch Spots near Hilton Financial District San Francisco
Hilton Financial District
750 Kearny Street, San Francisco CA 94115
Hotel Phone: 415-433-6600
Reservations: 800-424-8292
Rates: $259/night
Cutoff Date: September 22, 2022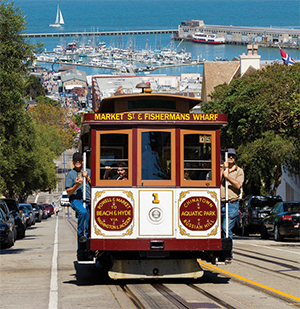 ---
Exhibitors
Exhibit Fee: $TBA
Email Contact for Exhibits [email protected]
Exhibit Description
Please contact Sari Will ([email protected]) for full details regarding the exhibits.