---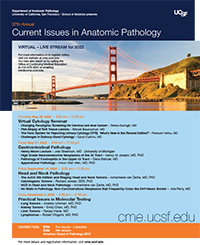 Registration Fee
Two Sessions Remaining: Sep. 16 and Nov. 4, 2022
Attend one session for $180
Attend both for a discounted rate of $300!
Cancellation Policy
Cancellations received in writing one week before the start of the session will be refunded, less a $75 administrative fee. No refunds will be made on cancellations received after that date. Please email your requests to [email protected]
4 Virtual Sessions in 2022!
May 26, 2022:
Virtual Cytology Seminar
 
May 27, 2022:
Gastrointestinal Pathology
Sept 16, 2022:
Head and Neck Pathology
Nov 4, 2022:
Practical Issues in Molecular Testing
---
Virtual Cytology Seminar
Thursday May 26, 2022 • 8:00 am – 12:30 pm
Gastrointestinal Pathology
Friday May 27, 2022 • 8:00 am – 12:30 pm
Head and Neck Pathology
Friday September 16, 2022 • 8:00 am – 12:30 pm
The AJCC 8th Edition and Staging Head and Neck Tumors – Annemieke van Zante, MD, PhD
Odontogenic Tumors – Richard Jordan, DDS, PhD
NGS in Head and Neck Pathology – Annemieke van Zante, MD, PhD
No Walls in Pathology: Non-Carcinomatous Neoplasms that Frequently Cross the ENT-Neuro Border – Arie Perry, MD
Practical Issues in Molecular Testing
Friday November 4, 2022 • 8:00 am – 12:30 pm
Lung Tumors – Anatoly Urisman, MD, PhD
Kidney Tumors – Emily Chan, MD, PhD
Liver Tumors – Sanjay Kakar, MD
Lymphomas – Robert Ohgami, MD, PhD
---
Overview
The principal objective of this activity is to identify areas of diagnostic difficulties and challenges in everyday surgical pathology and cytopathology practice, and to provide expert insight on selected topics through different educational formats. Educational experience is further enhanced through a collegial contact and one on one interaction throughout the course. The topics selected each year reflect areas in which substantial information and progress has been made (as identified through recent publications and other data gathering efforts). The topics of discussion also focus on areas in which there is significant difficulty in interpretation of pathological features.
TARGET AUDIENCE
This conference is tailored toward academic and private practice pathologists, residents, fellows, and health science specialists involved in pathology practice.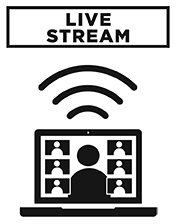 LIVE STREAM MEETING
This course will be offered as a virtual conference. Login instructions along with the digital syllabus will be shared with the attendees a week before the meeting. Included in your registration fee is access to the course recordings on demand (Available within a week after the conference) for any session that you miss, available for 30 days after the course.
Objectives
An attendee completing this course will be able to apply acquired skills and strategies to:
 

Identify common mistakes and pitfalls in the diagnosis of specific diseases in everyday surgical pathology.
Recognize mimickers of specific diseases in each specialty and learn to interpret special studies that will allow easier differential diagnosis.
 Learn the pertinent histopathological characteristics of diseases to allow unequivocal diagnosis.
 Identify new and additional components of the pathology report that will improve its clinical value.
Learn about the recent changes/modifications in the pathological classification of diseases or lesions.
Understand how they can be more helpful to the clinicians or surgeons in the management of patients with these diseases.
Accreditation
The University of California, San Francisco School of Medicine (UCSF) is accredited by the Accreditation Council for Continuing Medical Education to provide continuing medical education for physicians.
Course Agenda
Course Chair
Steven Long, MD
Professor of Pathology
Faculty
(University of California, San Francisco unless indicated)
Anatoly Urisman, MD, PhD
Assistant Professor of Pathology
UCSF Department of Pathology
Annemieke van Zante, MD/PhD
Professor of Clinical Pathology
Cytopathology Fellowship Director
UCSF Mission Bay
Arie Perry, MD
Professor of Pathology and Neurological Surgery
Director, UCSF Neuropathology Division
San Francisco, CA
Dana Balitzer, M.D.
Assistant Clinical Professor, UCSF Department of Anatomic Pathology
San Francisco, CA
Emily Chan, MD PhD
Assistant Professor of Surgical
Pathology
San Francisco, CA
Joel K. Greenson MD
Professor of Pathology
University of Michigan
Ann Arbor, MI
Kwun Wah Wen, MD, PhD
Assistant Professor
Department of Pathology, UCSF
San Francisco, CA
Laura Tabatabai, MD
Professor of Pathology
San Francisco, CA
Poonam Vohra, MD
Associate Professor
Department of Anatomic Pathology
University of California San Francisco
San Francisco, CA
Richard Jordan DDS PHD FRCPath
Professor of Oral Pathology, Pathology & Radiation Oncology
Robert Ohgami, MD, PhD
Professor of Pathology
Ronald Balassanian, MD
Professor of Pathology
University of California San Francisco
Sanjay Kakar, MD
Professor of Pathology
Chief of GI-Hepatobiliary Pathology
University of California San Francisco
San Francisco, CA
Sarah Calkins, MD
Associate Professor of Pathology
Pathology Residency Program Director
Steven R. Long, MD
Clinical Professor
UCSF Department of Pathology
San Francisco, CA
Teresa M. Darragh, MD
Professor of Clinical Pathology
Departments of Pathology and Obstetrics, Gynecology & Reproductive Sciences