Registration Fees
Physicians $375.00
Allied Health Professionals $300.00
Residents/Fellows $300.00
Cancellations received in writing before April 7, 2023 will be refunded, less a $75 administrative fee. No refunds will be made on cancellations received after that date.
Please email your requests to [email protected]
Overview
The 4rd Annual UCSF Addiction CME Conference aims to increase the core competency of medical teams in the inpatient and outpatient settings to improve care for patients who use drugs. This conference will increase skills in diagnosis, assessment, and treatment of common substance use disorders through didactics taught by local addiction experts, as well as small group discussions to apply this knowledge to patient care. This is a hybrid conference, attendees can be in person or virtual.
Target Audience
Physician
Nurse practitioners amd Physician Associates (PAs)
Topics Covered
Keynote address from a person with lived experience of Substance Use Disorder (SUD)
SUD as a brain disease, Stigma
Opioid Use Disorder 101: Buprenorphine and Methadone Inductions, complicated buprenorphine inductions with facilitated small groups to practice
Alcohol Use Disorder
Benzodiazepine use Disorder and withdrawal management
Stimulant Use disorder
Adolescents with SUD, Pregnancy and SUDs
Hospital Based care for patients with SUDs
Documentation in caring for patients with SUDs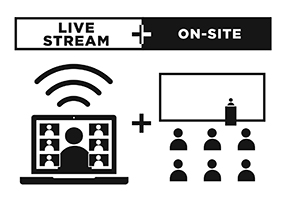 Onsite and Remote Learning Options:
The course will be offered as a live conference. Registrants have the option to attend in person or to tune in remotely via zoom live stream during programming hours (Pacific Time). Login instructions along with the digital syllabus will be shared with attendees before the meeting. Included in your registration fee is access to the course recordings on demand after the conference and for 30 days after the course. You must tune in to the live conference (in person or remotely) to claim CME.
Objectives
Attendees completing this course will be able to:
Describe the diagnosis of substance use disorders (SUDs)
Identify the evidence-based treatments for opioid, alcohol, and stimulant use disorders
Apply this knowledge to clinical cases of patients with substance use disorders
Accreditation
The University of California, San Francisco School of Medicine (UCSF) is accredited by the Accreditation Council for Continuing Medical Education to provide continuing medical education for physicians.
Course Outline
Course Chair
Jessica Ristau, MD*
Assistant Professor of Medicine, Division of Hospital Medicine
Faculty
(University of California, San Francisco unless indicated)
Jose P
Matt Tierney*, ANP, PMHNP, CARN-AP, FAAN  
Andy Tompkins*, MD  
Christy Soran*, MD, MPH  
Phillip Coffin*, MD, MIA, FACP, FIDSA
Steve Batki*, MD  
Samira Lopez, RN, BSN, PMH-BC
Josh Kayman*, MD
Alex Logan*, MD
Trevor Lee*, MD  
Mishka Terplan*, MD
Matt Meyers*, MD
* Board Certified or Certified in Specialty as Addiction Specialists
Travel & Lodging
UCSF Parnassus Campus
HSW-301 and HSW-302
513 Parnassus Avenue
San Francisco, CA 94143
---